Tokyo Olympics: Laurel Hubbard out of weightlifting after failing to register successful lift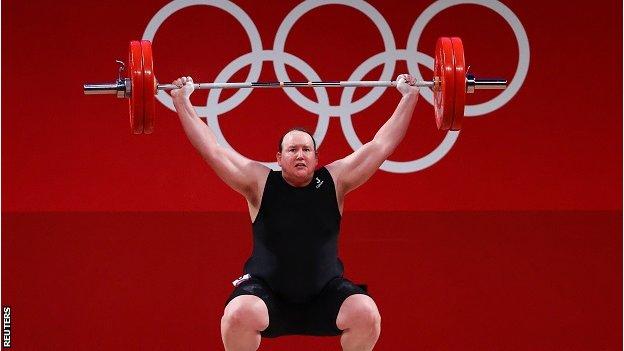 Dates:
23 July-8 August
Time in Tokyo:
BST +8
Coverage:
Watch live on BBC TV, BBC iPlayer, BBC Red Button and online; Listen on BBC Radio 5 Live, Sports Extra and Sounds; live text and video clips on BBC Sport website and app.
Transgender athlete Laurel Hubbard made Olympic history but failed to record a successful lift in the women's +87kg weightlifting.
She became the first openly transgender athlete to compete at a Games in a different gender category to the one in which they were born.
But after a failed attempt to lift 120kg and two failed efforts at 125kg in the snatch, her competition ended.
Team GB's Emily Campbell won silver, with gold going to China's Li Wenwen.
Campbell became the first British woman to win an Olympic weightlifting medal with her combined total of 283kg.
China's Li lifted an Olympic record of 320kg to take the title, with American Sarah Robles claiming bronze with 282kg.
Hubbard said: "I know that from a sporting perspective I haven't really hit the standards that I put upon myself and perhaps the standards that my country has expected of me.
"But one of the things for which I am profoundly grateful is that the supporters in New Zealand have given me so much and have been beyond astonishing.
"I'd like to thank the New Zealand Olympic Committee – they have supported me through what have been quite difficult times.
"I know that my participation at these Games has not been entirely without controversy but they have been just so wonderful and I'm so grateful to them."
Who is Laurel Hubbard?
As a junior, Hubbard was the national record holder and was lifting a total of 300kg in domestic men's competitions before quitting in 2001 at the age of 23.
She came out as a transgender woman in 2012 at the age of 33 before resuming her sports career.
Since returning to competition, Hubbard has won seven international tournament gold medals.
After suffering an elbow injury when leading the 2018 Commonwealth Games, she thought her career was over but battled back and won Pacific Games gold in 2019 and finished sixth at the Worlds.
Now 43, she is the third oldest lifter in Olympic history.
Her selection for the Olympics sparked debate, however. The New Zealand Olympics committee says Hubbard is a "really important role model" who "opens up a conversation about inclusivity", while some of her fellow competitors have welcomed the move.
But critics, including some athletes, have questioned her inclusion. A key point of contention has been around whether Hubbard carries an advantage due to going through male puberty. Many of the scientists and academics cannot agree on this point.
What are the rules?
In 2004, the IOC permitted transgender athletes to take part in the Olympics.
Since 2015, its stipulations have stated athletes who have transitioned from male to female can compete in women's sport – without requiring surgery – as long as they have declared their gender identity is female for at least four years and kept their testosterone level below 10 nanomoles per litre for at least 12 months.
In addition, for individual sports, the IOC allows sporting federations to set their own guidelines. World Athletics has set five nanomoles per litre as its benchmark, and it is likely others, such as the International Weightlifting Federation will adopt the same, once an ongoing IOC study is completed.
According to NHS data, men's testosterone levels range between 10 and 30 nanomoles per litre dependant on factors including age and time of day, but a younger healthy male typically ranges between 20 and 30. Women's testosterone levels range between 0.7 and 2.8.
Hubbard and others must take hormone suppressing drugs to reduce their testosterone levels.