Tokyo Olympics: British medal hope Amber Hill withdraws after testing positive for Covid-19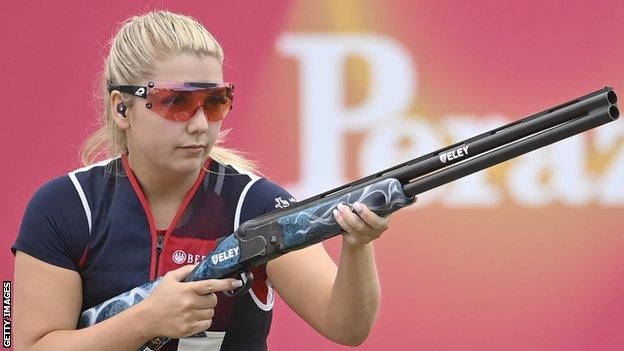 British medal hope Amber Hill has withdrawn from the women's skeet competition at this summer's Olympics after testing positive for Covid-19.
World number one Hill won silver at the shooting World Cup in May and finished sixth at the Rio 2016 Games.
Hill says she is "absolutely devastated" by the news, which came before she had left for Japan.
She was due to participate in Sunday's qualifying event with the final scheduled to take place on Monday.
The British Olympic Association confirmed Hill's positive test and added there would be no replacement for the 23-year-old.
"There are no words to describe how I'm feeling right now," Hill said.
"After five years of training and preparation, I'm absolutely devastated to say that last night I received a positive Covid-19 test, meaning I've had to withdraw from Team GB's shooting team.
"Although I don't have any symptoms, I will now isolate as per the government guidance."
Swimmer Ilya Borodin, 2020 European champion in the men's 400m individual medley, will also miss the Games, the Russian Swimming Federation said.
The 18-year-old tested positive for coronavirus during a training camp before departing for Japan.
Team GB close contacts given hope
One athlete who feared her Games might be over after she was identified as a close contact of a member of the public who tested positive on the flight to Japan has been given hope she can compete.
British 400m hurdler Jessie Knight was part of a group of six athletes identified as a close contact of someone two rows away on her flight.
"When I was initially told, I was just told 'Oh Jessie we need to speak to you' so my heart dropped and to be honest I thought I'd tested positive," the 27-year-old told BBC Sport. "The fact that I was just a close contact, I was really relieved."
The protocols in place mean she is isolated from athletes who have not been affected but with twice-a-day testing, and social distancing between her and her coach, she is still able to train.
"You don't want to miss 14 days of training going into the biggest race of your life so I was panicking but it was communicated so quickly that I would be able to train so long as we were providing those negative tests."
Team GB chef de mission Mark England said: "This is a rule that was presented to everybody only in the last 48 hours by the IOC and Tokyo 2020.
"Any athlete in the Olympic Games that has been contacted for track-and-trace and is isolating, as long as they presenting negative tests they are allowed to enter the field of play."
Knight is due to compete in the early rounds of the women's 400m hurdles on 31 July.




About Author