How Do You Talk To Kids About Trauma? This Mum Needed To Know
In 1994, one of Rwanda's darkest moments in history took place – a genocide that saw the death of 1,100,000 people – of which 800,000 people were Tutsi, an ethnic group that were minorities in comparison to the majority Hutus.
At the time, Alice Musabende was 13-years-old. Her parent, grandparents, and siblings all died during the war. The now mum-of-two had only a few surviving members of her family; her aunt, uncle, and their kids. In 2005, as part of her studies, Musabende left Rwanda for Canada, building a life for herself; she married (but has since separated), and had two precious boys.
She began working as a journalist and academic, later moving to the UK to work at the University of Cambridge. But despite her writing and hours of research into what happened, Musabende found it almost impossible to articulate the reality of the violence which was unleashed on her people.
"I have spent so many hours, countless of times, writing and reading and trying really to capture the magnitude of the horror. And I still haven't," she tells HuffPost UK.
Now, her two children, aged five and eight, have questions about their grandparents, their home in Rwanda, and how their mother feels about it all.
So, in an attempt not to "run away from her demons", Musabende had to find a way to voice the unspeakable horror she endured at such a young age. Which is how she began making a radio show with the BBC to start the story.
In Unspeakable, Musabende asks for help and guidance from other genocide survivors, second-generation holocaust survivors, a therapist who works with AIDS orphans in South Africa, and a publisher of stories in Rwanda.
She explores identity, generational trauma, and the place of storytelling and with the help of these other voices, she tries to piece together the answer to one fundamental question: how do I tell my kids about my trauma?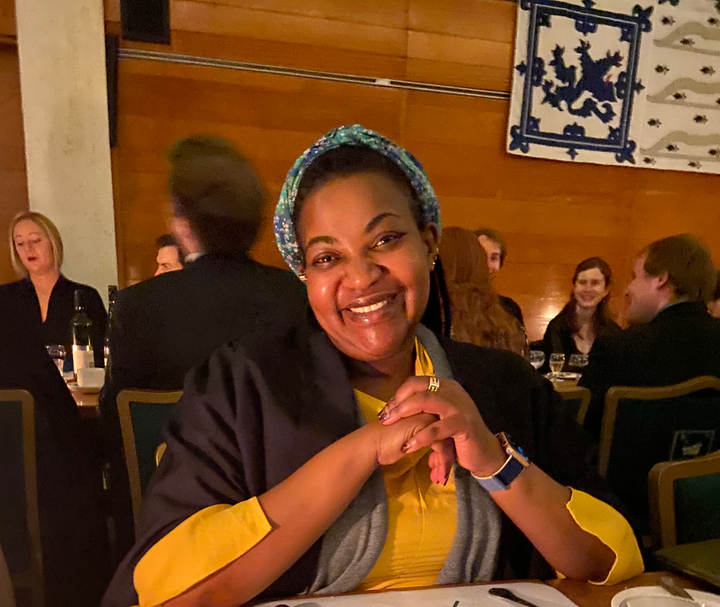 Firstly, says Musabende, she has had to come to terms with her own past.
"For the last 20 years, I've focused so much on me," she explains. "I've done therapy, I tried to figure out how to live with PTSD, to understand how I will actually live a life without family, without anyone. I thought I was really getting a good handle on it. Then I moved here and in the middle of trying to reconfigure being a single parent and my work, I remember just one day thinking, 'Oh no, I'm going to have to tell the boys about the genocide.'
"That bit was way more complicated than anything else I have done, mainly because the story of the genocide, for me, is extremely painful, but I think it's painful for all the other survivors as well. Because I've spent so many years trying to run away from it, it was so hard."
Growing up, Musabende was aware of the ethnic persecution of her Tutsi people – her family members had been arrested on suspicion of being part of rebel forces, and her granddad's land had been seized.
After travelling to Ottawa for her graduate studies, Musabende recognised signs of PTSD in herself. She explains: "In school I couldn't really function. I had a really difficult transition, I did so many things that we now associate with post traumatic stress disorder but at the time no one told me what it was.
"It wasn't until I started different forms of therapy to make sense of what I was going through. Through those sessions, I wanted to find the essence of who I was, I wanted to be okay. I wanted to have joy, and I wanted to be able to use my brain to serve, to study and perhaps maybe even teach."
About Author