Australia v New Zealand: Wallabies coach Dave Rennie angered by cancellation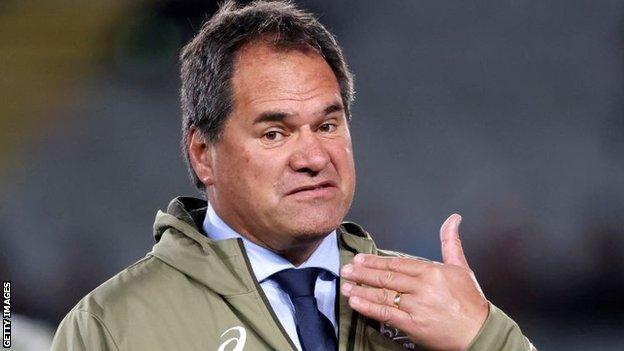 Australia coach Dave Rennie says he is "bloody angry" about New Zealand cancelling the teams' Bledisloe Cup match without telling the Wallabies.
New Zealand will not travel to Perth for the 28 August fixture because of Covid-19 restrictions.
New Zealand has announced a snap lockdown after the country's first positive Covid case in six months.
"I'm bloody angry. Our boys all found out through social media," said Rennie.
"I thought 'New Zealand Rugby didn't even have the respect to consult Rugby Australia about their decision', so that's hugely disappointing.
"I feel like there's only one of us doing what's in the best interest of the game.
"Last year, we went to New Zealand to ensure the games were played for the benefit of both countries.
"We quarantined in Wellington for two weeks. The expectation was we made a commitment to go there this year, they'd come here and they haven't honoured. It tells you more about them than us I reckon."
The Wallabies played two matches – a 16-16 draw and a 27-7 defeat – in New Zealand in October.
New Zealand have also announced that their planned fixtures against world champions South Africa on 25 September and 2 October have also been cancelled along with their women's side two matches with Australia.
The Black Ferns were set to face Australia in Christchurch on 26 September and at Eden Park on 2 October.
"It's incredibly disappointing to be informed of this decision via the media, despite having a conversation with the CEO moments before and there being no mention that this was the intention," said Rugby Australia chief Andy Marinos.
"We have been engaging in positive discussions with both teams as well as Government partners and were confident we were close to finding a solution."
In its statement, New Zealand Rugby (NZR) said the decision was made after advice from relevant parties.
"The decision follows advice from Government that the Springboks and Wallaroos would not be able to enter New Zealand to play the matches due to Covid-19 travel restrictions," it said.
NZR chief executive Mark Robinson added: "We share the disappointment of our fans, players and other stakeholders, particularly those in Dunedin where the sold-out 100th Test between the All Blacks and South Africa was shaping up as a very special occasion.
"However, after discussions with Government, it is clear that the Covid-19 travel restrictions meant there was no way of bringing the South African and Wallaroos squads into New Zealand and we understand the importance of putting the health and safety of New Zealanders first."
New Zealand's men began the Rugby Championship with a record victory against Australia on Saturday to claim a 19th successive Bledisloe Cup win.
New Zealand had been due to host the women's Rugby World Cup in October before the tournament was moved back a year to 2022 in March.




About Author